Chicken Biryani
Elena Duggan
500g Basmati rice
50g Ghee
200g / 1lge Onion, finely diced
500g Chicken breasts and/or thigh fillet, sliced into 1cm pieces
20g Garam masala
3 Bay leaves
3 Green cardamom pods
3 Black cardamom pods
1 x 10cm Cinnamon stick
5g Turmeric, ground
20g Garlic cloves, crushed
20g Ginger, finely grated
6 Cloves
2.5g/ 1tsp Black caraway seeds (shajeera)
<1g / ½ tsp Nutmeg, ground
Pinch saffron threads
1 long Red chili, deseeded and finely diced
100g Sultanas or raisins
1kg Chicken stock
Salt to taste
To Serve:
½ bunch Coriander, leaves only, sliced
25g Flaked almonds, lightly toasted
50g Crispy onions
Soak rice in warm water, then wash in cold until the water runs clear, this may take 10minutes.
Heat ghee in a medium to large saucepan and cook onion with all aromats, whilst stirring for up to 10 minutes or thoroughly fragrant and onions softened.
Add chicken and cook until well sealed or at least 5minutes.
Stir the rice into the pan with sultanas, then pour over stock.
Place a tight-fitting lid on the pan and bring to the boil, before reducing heat to a minimum and cook the rice for another 5 minutes.
Turn off the heat and leave for 10 minutes.
If rice is still too wet, cooked for a further 5minutes over medium to high heat, uncovered whilst stirring to evaporate liquid.
Remove from heat, mix through half of the coriander and half the crispy onions.
To serve, scatter over the remaining onions, coriander and almonds.
Gluten free
Dairy free, optional – swap ghee for coconut oil
Zero refined sugar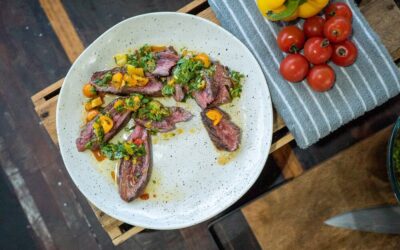 Ingredients: Serves: 4 800g Hanger Steak Sea Salt 1 small yellow pepper, seeds removed, roughly chopped 6 Yellow baby Tomatoes 1 small red chilli, seeds removed ½ tsp dried flaked chillies 2 Garlic cloves, peeled 20g fresh parsley, including any tender stalks 10g each...