Chicken Burrito
Jason Johnson
Tasty cheese
Avocado x 2
Limes
Coriander
Wraps 8inch (needs to fit in pan you use)
Brown rice
Sweet potato
Cherry tomato
Cos lettuce
The chicken burrito is very versatile and is packed full of goodness, legumes, protein and veg, it is a great dish that can be had three or four different ways.
Place the pouch in a pot of simmer water for 10 minutes. It's ok to leave it on for longer while you prepare your side dishes, just turn the heat off and put the lid on to maintain its heat.
To prepare the sweet potato wedges, cut these in half long ways, season with olive oil, salt, pepper, and paprika and place in a hot oven 180 degrees for 20-25 minutes. Move onto the guacamole, mash up your avocado, add the coriander stems and some leaves, lime juice, salt, pepper and mix all together to make guac, put inside the bowl.
Take the sweet potatoes out of the oven, place on a plate and open the burrito mix and spoon 1 half the packet on one potato and the rest onto the other, garnish with cheese, guacamole, sour cream and coriander leaves
Quesadillas
For the quesadillas, no need to heat the burrito mix, just spread a thin layer on one side of a tortilla and sprinkle it with cheese, then add a second tortilla on top and transfer to hot fry pan where you can toast each side until meat and cheese has heated and melted through.
Take from the pan and transfer to the chopping board and cut in half, half again then half each triangle making 8 triangle style slices.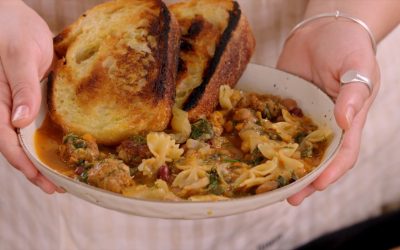 Ingredients: 4 Spicy Italian Sausages Packet of Farfalle Pasta 1 Leek 1 Carrot 1 Onion 2 Garlic 2 cups Shredded Cabbage 1 Chopped Silver Beet 1 400gm Tinned Beans 1 tsp Cumin powder 1 tsp Coriander  powder 1tsp Paprika powder 2 tbsp Tomato Paste Stock of your choice...