2 large Lemons, zest and reserve juice
50g Red wine vinegar (optional, above lemon juice can be used in substitute)
25g / 1tbsp Dijon mustard
6 large Anchovy fillets, diced
1bunch Coriander, leaves only, finely diced
1bunch Flat leaf parsley, leaves only, finely diced
½ bunch Oregano, leaves only, diced
½ bunch Thyme, leaves only, diced
1 medium Red onion, finely diced
5 cloves Garlic, crushed
1 long Red chili, deseeded, finely diced
200g EVOO
Black pepper, to taste
Salt to taste
Place all solids into a large mortar and pestle and pound and grind until a rough paste is formed.
Loosen and mix with EVOO and acidity. Season with pepper and salt to taste.
Alternatively, you can use a food processor to combine the ingredients, but this may result in a much smoother paste without a pleasing textural and visual difference among the ingredients.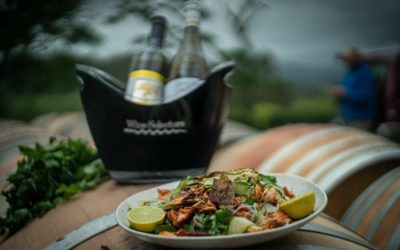 Ingredients: 100g glass noodles (bean thread vermicelli) 2 Lebanese cucumbers, thinly sliced using a vegetable peeler 4 spring onions, thinly sliced on diagonal 2 eschalots, thinly sliced 1 cup coriander sprigs 1 cup flat-leaf parsley sprigs 1-2 small red chillies,...