Chinese Chicken and Corn Egg Drop
Elena Duggan / Khanh Ong
3 cups of chicken stock
1 tsp soy sauce
1⁄2 tsp turmeric powder
1/2 tsp minced ginger
1 garlic clove minced
1⁄2 tsp sesame oil
1 tbsp chinese cooking wine
1 1⁄2 cup of frozen corn thawed cornstarch slurry (1 1/2 tbsp cornstarch combined with 1⁄4 cup of chicken stock)
1 egg plus 1 egg white lightly beaten
1 chicken breast fillet poached and shredded a pinch of white pepper
To Serve:
chopped coriander
chopped spring onion greens
fresh black pepper
Combine stock, soy sauce, turmeric, ginger, garlic, sesame oil, cooking wine and 1⁄2 a cup of corn roughly chopped up and 1 cup of corn kernels in a medium pot and bring to the boil.
Using chopsticks mix cornstarch slurry again and whilst stirring the broth add the slurry.
Turn the heat off and slowly stirring the soup add in the beaten egg slowly to form egg ribbons.
Stir in the chicken shredded and add pepper and set aside.
Top with a sprinkling of coriander, spring onions and black pepper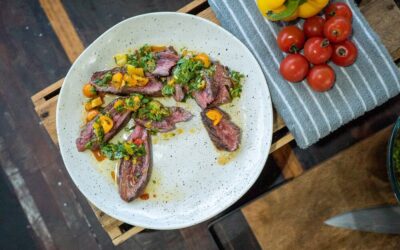 Ingredients: Serves: 4 800g Hanger Steak Sea Salt 1 small yellow pepper, seeds removed, roughly chopped 6 Yellow baby Tomatoes 1 small red chilli, seeds removed ½ tsp dried flaked chillies 2 Garlic cloves, peeled 20g fresh parsley, including any tender stalks 10g each...