Choc Chip Cookies
Joel Feren
Makes 15 Cookies
½ cup Ensure chocolate powder
1¼ cups buckwheat flour
150g butter, softened
¼ cup brown sugar
1 egg
1 tsp. vanilla extract
¾ cup dark chocolate bits
Preheat oven to 160°C and line baking tray with baking paper.
In a bowl beat butter and sugar with an electric mixer for 1 minute or until smooth. Beat egg and vanilla extract until well combined.
Sift in flour and add dark chocolate bits and mix well. Using a cookie scoop make cookie balls and place on prepared baking tray. Gently flatten.
Place tray in oven and bake for 18-20 minutes. Once cooked transfer to a wire rack and allow to cool.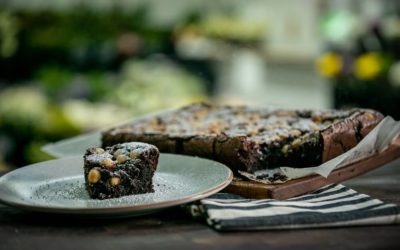 Ingredients: Makes 28 portions 12 eggs 800gm 900gm caster sugar 675gm 68% Madagascar chocolate 675gm-unsalted butter 225gm ground macadamia meal 225gm cocoa powder 300gm macadamia nuts Method: Preheat oven to 150 degrees Grease and line sponge tray with parchment...