Choc Spice Cookies
Elena Duggan
200g Almond meal
100g Coconut flour
5g / 1 tsp Xantham gum
5g / 1 tsp Ginger, ground
5g / 1 tsp Cinnamon, ground
5g / 1 tsp Cardamom, ground
1g / ¼ tsp Cloves, ground
1g / ¼ tsp Black pepper, finely ground
5g / 1 tsp Turmeric, ground
5g / 1pod Vanilla paste/ vanilla pod
2.5g / ½ tsp Salt
100g Honey
100g Butter, melted or Coconut oil
3lge Eggs
75g Chocolate chips, dairy free, sugar free, gluten free
Optional: 100g Chocolate, melted – sugar free, grain free for drizzling
Preheat fan forced oven to 170° Celsius.
In a large bowl combine all dry ingredients.
In another bowl, combine all wet ingredients before adding to dry and mixing thoroughly.
Wrap the dough in plastic wrap and refrigerate for up to 2 hours until firm.
Roll dough into 8cm balls and place apart on lined baking tray. Gently flatten to half the height of original ball.
Bake for up to 10 minutes or until the tops are dry and starting to crack.
Cookies may not brown very much and will crisp on the outside slightly, upon cooling.
Remove from heat and allow thorough cooling before drizzling over melted chocolate.
Cookies will be fine to store in an airtight container for up to a week.
Ginger, cinnamon, black pepper, turmeric, chocolate are all antioxidants.
When combined, Curcumin (turmeric) + piperine (black pepper) help to:
relieve pain
reduce inflammation
control obesity
renew stem cells
aid in healing the gut — Curcumin + piperine prevent growth of H. pylori which can cause digestive problems like ulcers
have antioxidant benefits that fight cancer and improve cognitive function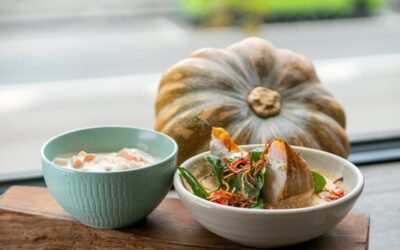 Ingredients: Serves: 2 Ingredients: 2x Wedges of Pumpkin (skin on) 1x can of coconut milk 30ml Soy Sauce (to taste) 1 tbsp of Tom Yum Paste 1 chilli, finely sliced 1 punch of Thai basil 1 tbsp fried shallots Bubur Cha Cha: Kara coconut cream 2litres Pandan leaves 6pcs...