Chocolate Avocado Mousse
Jemma O'Hanlon
Serves 2
Flesh of 1 ripe Australian avocado
6 Medjool dates, pitted
¼ cup cacao powder
½ tsp vanilla extract
Pinch sea salt
To serve
¼ cup fresh Australian raspberries
1 tsp cacao nibs (optional)
1 sprig of fresh Australian mint
Place all ingredients in a food processor and blend until the mixture is smooth, thick and glossy. Use a spatula to scrape down the sides of the processor in between blending.
Refrigerate prior to serving and serve with fresh raspberries, some cacao nibs and a sprig of mint.
Prepare this recipe in advance and store in the fridge. Serve with 2 spoons, dig in with your partner and enjoy a romantic dessert together.
For chef quality results, we recommend using Anolon cookware!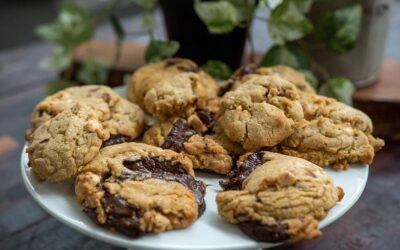 Ingredients: 250g Plain Flour 250g Bread flour 1 tsp baking powder 1 tsp sea salt 125g Butter, unsalted 125g Light brown sugar 125g Caster Sugar 1 large Egg 1 tsp vanilla extract 100g Dark chocolate block 100g White chocolate chips Method: Preheat oven to 180 degrees...