Chocolate Ginger Bread
Joel Feren
Makes 24
½ cup Ensure chocolate powder
125g butter, softened
½ cup brown sugar
½ cup golden syrup
1 egg
2½ cups plain flour
1 tbsp. cocoa powder
1 tsp. baking soda
3 tsp. ground ginger
1 tsp. cinnamon
1 tsp. ground cloves
½ tsp. nutmeg
Preheat oven to 160°C and line baking trays with baking paper.
Add butter, sugar and golden syrup into large mixing bowl and beat with an electric mixture. Add egg and mix until well combined.
Gently add flour, Ensure powder, cocoa, baking soda and spices and mix well. Form dough into a disc and cover with cling wrap and place in fridge for 30 minutes.
Remove dough from fridge and roll onto a lightly floured bench top to 5mm thickness. Cut into shapes using cookie cutters and place on prepared trays.
Bake in oven for 8 minutes. Allow to cool on a wire rack.
Biscuits can be iced if desired.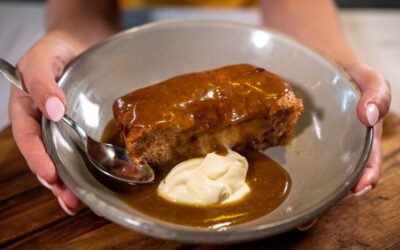 Ingredients: 185 g dates 1 cup water 60g butter 2 eggs 185g self raising flour 185g sugar 1tsp baking powder ½ tsp vanilla paste Butterscotch Sauce: 1 cup cream ¾ cup brown sugar 2 tbsp butter Pinch of salt Method: Bring the dates and water to a boil, then remove from...