Chocolate Overnight Muesli
Simone Austin
Serves 2
4 scoops Ensure Chocolate Powder
200ml milk
½ cup natural yoghurt
¾ cup rolled oats
¼ cup unsalted nuts (e.g. almonds, walnuts, macadamias)
¼ cup grated apple (Granny Smith works well)
2 tablespoons dried apricots
2 tablespoons sultanas
In a glass mix Ensure powder with milk and stir until dissolved
In a mixing bowl combine rolled oats, nuts, dried fruit and grated apple
Pour over Ensure milk mixture and stir in yoghurt
Cover and refrigerate overnight
Serve with a dollop of yoghurt if desired and extra milk if too dry. Top with a little seasonal fruit.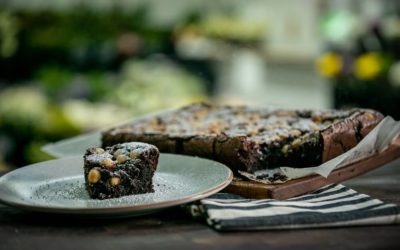 Ingredients: Makes 28 portions 12 eggs 800gm 900gm caster sugar 675gm 68% Madagascar chocolate 675gm-unsalted butter 225gm ground macadamia meal 225gm cocoa powder 300gm macadamia nuts Method: Preheat oven to 150 degrees Grease and line sponge tray with parchment...