Chocolate Overnight Muesli
Simone Austin
Serves 2
4 scoops Ensure Chocolate Powder
200ml milk
½ cup natural yoghurt
¾ cup rolled oats
¼ cup unsalted nuts (e.g. almonds, walnuts, macadamias)
¼ cup grated apple (Granny Smith works well)
2 tablespoons dried apricots
2 tablespoons sultanas
In a glass mix Ensure powder with milk and stir until dissolved
In a mixing bowl combine rolled oats, nuts, dried fruit and grated apple
Pour over Ensure milk mixture and stir in yoghurt
Cover and refrigerate overnight
Serve with a dollop of yoghurt if desired and extra milk if too dry. Top with a little seasonal fruit.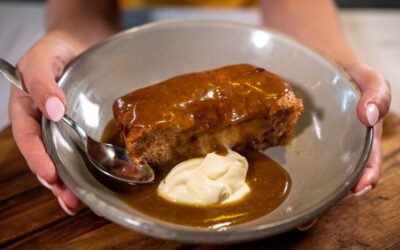 Ingredients: 185 g dates 1 cup water 60g butter 2 eggs 185g self raising flour 185g sugar 1tsp baking powder ½ tsp vanilla paste Butterscotch Sauce: 1 cup cream ¾ cup brown sugar 2 tbsp butter Pinch of salt Method: Bring the dates and water to a boil, then remove from...