Cinnamon Brioche Eggy Bread
Elena Duggan
Eggy Bread:
6 large eggs, organic and free range
4 thick slices of brioche or homemade bread
50g Stevia monkfruit comb., granulated
1 Vanilla bean
1tsp Cinnamon
250g Cream
250g Full cream milk
Salt, Murray River Pink, to taste
1tbsp Unsalted organic grass fed butter
Vanilla Cream:
1 Vanilla bean
600ml Thickened cream
Saffron and Botrytis Poached Pears:
1med lemon, stripped zest and juice
1pinch saffron
100ml Botrytis
50g Honey
4 bosc or beurre or Williams pears, halved, cored, peeled
Up to 500g Water
Optional to Serve:
Eggy Bread:
Whisk eggs, vanilla sugar, vanilla seeds, cream, milk and salt together in a bowl till combined. Pour into the baking dish.
Soak the brioche for 5-10 minutes each side until wet mixture is well absorbed.
Melt butter in a non-stick fry pan over low-med heat.
Place eggy bread into fry pan. When you can see egg starting to crisp, the fragrance becomes caramelised, flip the eggy bread, and cook the other side until golden as well.
Sprinkle extra sugar while warm before serving if desired.
Vanilla Cream:
Beat cream and vanilla seeds until soft peaks.
Serve loose rochers of cream over the French toast
Saffron and Botrytis Poached Pears:
Place all ingredients except pears in a pot with the water, wait until it comes to a low simmer and add pears. Cook for 10-15 minutes or depending on your texture preference
Optional to Serve:
Shaved truffles and grated chocolate, or curl chocolate.
Serve crispy eggs bread in triangles, with coffee cream and chocolate and truffles sprinkled generously over the top.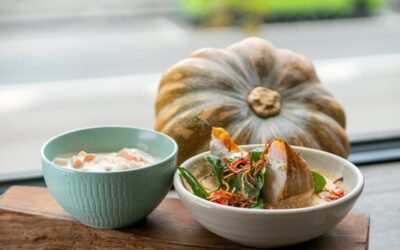 Ingredients: Serves: 2 Ingredients: 2x Wedges of Pumpkin (skin on) 1x can of coconut milk 30ml Soy Sauce (to taste) 1 tbsp of Tom Yum Paste 1 chilli, finely sliced 1 punch of Thai basil 1 tbsp fried shallots Bubur Cha Cha: Kara coconut cream 2litres Pandan leaves 6pcs...