Cinnamon Roasted Pumpkin with Candied Orange Peel and Toasted Pepitas
Elena Duggan
Cinnamon Pumpkin
½ Kent or Jap Pumpkin, cut into even wedges- retain skin, remove seeds
2 tsp cinnamon
Up to 100g Extra virgin olive oil
5g salt
Zesty Pepitas
3 navel or valencia oranges, reserve juice
50g caster sugar or granulated stevia
50g pepitas
Salt to taste
Orange Butter Sauce
2 navel or valencia oranges, reserved juice from above
100g Butter
Up to 1 tbsp salt
Preheat oven to 150 degrees Celsius
Place pumpkin pieces on an oven tray
Mix cinnamon, salt and olive oil together and thoroughly coat pumpkin
Place pumpkin skin side down and roast for approx. 90 minutes or until caramelized and soft on the inside
Serve with warm and zesty pepitas and orange butter as below
Rinse the oranges.
Cut the top and bottom off each orange and score the skin into quarters.
Remove the skin (peel and pith, the white part), and julienne the skin. Place the strips of peel in a large saucepan and cover with cold water. Reserve juice.
Set on the stove on high heat and bring to a boil. Drain the water from the peels and repeat this process twice more before allowing to cool and dry thoroughly
In a heavy based fry pan, add pepitas and orange zest and gently toast until fragrant and starting to colour, add sugar and stir until thoroughly coated in a crystalised crust.
Heat the orange juice over a medium simmer in a saucepan, reduce by approximately half. Add butter and blitz until thoroughly combined, season to taste.
Serve pumpkin on top of sauce with zesty pepitas sprinkled over the top.
Gluten free
Grain free
Refined sugar free
Vegetarian
Vegan optional – replace butter with EVOO in sauce
Pescatarian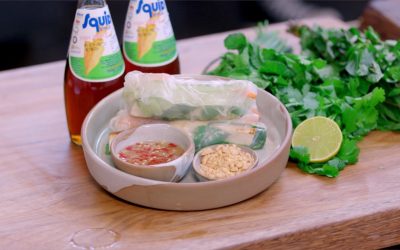 This recipe is brought to you by our friends at Asian InspirationsIngredients:Serves: 8 Prep Time: 10 mins Cook Time: 15 mins Main Ingredients: 1 packet rice paper 150g rice vermicelli noodles 1 bunch coriander 1 bunch Thai basil 1 bunch mint 1 bunch garlic chives 1⁄4...