Citrus and Herb Roasted Olives
Elena Duggan
1 Orange, zest stripped, juice reserved
1 Lemon, zest stripped, juice reserved
250g Kalamata olives
250g Black olives
250g Stuffed olives
½ bunch fresh thyme
5 cloves garlic, thinly sliced
100g EVOO
Black pepper, to taste
Salt, to taste
Preheat fan forced oven to 200° Celsius
Combine all ingredients in a ceramic or glass-baking dish. Roast for 10-30 minutes, turning every 5 minutes.
Adjust seasoning with orange and lemon juice to taste before serving as a part of a platter or tapas.
Grain Free
Gluten Free
Refined Sugar Free
Sugar Free- Low Fructose
Dairy Free
Paleo Friendly
Ketogenic Friendly
Vegetarian
Vegan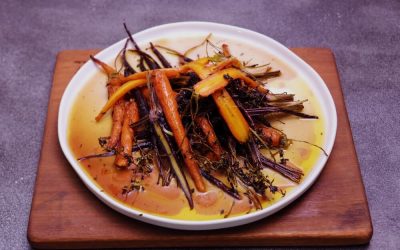 Join Elena Duggan as she creates her Honey Herbed Carrots recipe. Tune in to The Market kitchen each weekday on Channel 10.