Citrus and Herb Roasted Olives
Elena Duggan
1 Orange, zest stripped, juice reserved
1 Lemon, zest stripped, juice reserved
250g Kalamata olives
250g Black olives
250g Stuffed olives
½ bunch fresh thyme
5 cloves garlic, thinly sliced
100g EVOO
Black pepper, to taste
Salt, to taste
Preheat fan forced oven to 200° Celsius
Combine all ingredients in a ceramic or glass-baking dish. Roast for 10-30 minutes, turning every 5 minutes.
Adjust seasoning with orange and lemon juice to taste before serving as a part of a platter or tapas.
Grain Free
Gluten Free
Refined Sugar Free
Sugar Free- Low Fructose
Dairy Free
Paleo Friendly
Ketogenic Friendly
Vegetarian
Vegan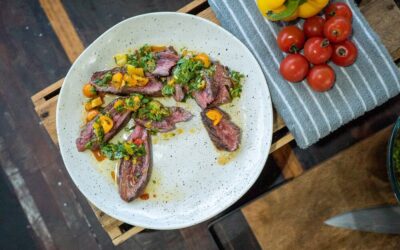 Ingredients: Serves: 4 800g Hanger Steak Sea Salt 1 small yellow pepper, seeds removed, roughly chopped 6 Yellow baby Tomatoes 1 small red chilli, seeds removed ½ tsp dried flaked chillies 2 Garlic cloves, peeled 20g fresh parsley, including any tender stalks 10g each...