Creamy Coconut Porridge with Stewed Seasonal Fruit
Georgia Barnes
Serves 4
1 1/2 cups Whole oats
3 cups Coconut water
1 cup Coconut cream
2 stalks Rhubarb, chopped
2 Apples, peeled and cored
1 cup Raspberries, fresh or frozen
1 cup Strawberries, sliced
1 Orange, zest and juice
3 tablespoons Pure maple syrup
1 Cinnamon stick
1 cup Selection fresh seasonal fruit, sliced
Place oats into a bowl and cover with water. Place in the refrigerator to soak overnight.
Place rhubarb, apples, raspberries, strawberries, orange zest, orange juice, maple syrup and cinnamon stick into a saucepan. Add 1/3 cup water and mix together well. Place over medium heat and bring to the boil. Simmer for
15-20 minutes or until fruit is cooked and mixture has reduced slightly. Remove cinnamon stick, and stir through rose water.
Drain oats and place in a large saucepan. Add coconut water and place over medium heat. Bring to a simmer, stirring constantly. Cook until smooth and creamy. Remove from heat and stir through coconut cream.
To serve, spoon porridge into serving bowls. Top with stewed fruit. Garnish with fresh fruit slices. Serve warm.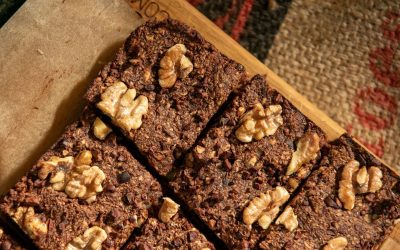 This recipe is brought to you with the help of our friends at JC's Quality Foods Ingredients: 1 ½ cups raw cashews 1 ½ desiccated coconut 3 medium ripe bananas, peeled and chopped 10 fresh dates, pitted 2 tsp vanilla extract ⅓ cup raw cacao powder ½ tsp bicarbonate of...