Crispy Eggplant with Sweet and Spicy Sauce
Elena Duggan
2 medium length eggplant or 6 Lebanese eggplant
1-2L vegetable or canola oil
4 spring onions, green only, finely sliced on an angle
20g Toasted Sesame seeds, ground in a mortar and pestle into a powder, not paste
Murray River salt, to taste
Batter
50g Tapioca starch/ arrowroot flour
50g Rice flour, super fine
Pinch salt/ to taste
15g Xantham Gum
500g Water
Sauce
100g Stevia / Monkfruit, granulated
100g Water
100g Soy Sauce, (gluten free alternatives available)
100g Black Vinegar
50g Red Vinegar
50g Soy bean paste
25g Chili paste
Pinch Sichuan peppercorns, finely crushed
10g Chili oil, quantity to taste
3cm thumb ginger, finely chopped or grated
5 cloves garlic, finely chopped or crushed
3 long red chilies, finely chopped
To Serve
Spring onions, sliced on an angle finely
Red chili, sliced on an angle finely
Mung bean sprouts
For the sauce, place stevia and water into a medium saucepan and heat over medium high heat until dissolved. Bring to boil and reduce heat to a medium simmer.
Place remaining sauce ingredients into the saucepan and simmer while stirring for 5-10minutes. To soften ingredients and thicken sauce. Remove from heat and allow cooling. Place in an airtight container and set aside.
For the batter, place all ingredients in a high speed blender and blitz until thoroughly combined and a smooth batter has formed.
Preheat the oil in the work or deep fry pan to approx. 190º Celsius – without a thermometer, you can test temperature by placing bamboo chopsticks or a timber skewer in and if bubbles form quickly and rapidly you're good to go.
To prepare the eggplant, top and tail if necessary, wasting as little flesh as possible. Cut lengthways into long skinny wedges, so that each piece has skin. Cook eggplant in batches so as not to overcrowd the wok, which can reduce the temperature too much and cause the pieces to stick together while cooking.
Gently toss the eggplant in the batter before gently lowering into the hot oil. Cook for about five minutes or batter is starting to turn golden. Remove gently with a spider strainer and drain on a wire rack.
To serve, toss eggplant in sauce so each piece of eggplant is glistening, before sprinkling over sesame seeds and spring onions. Pour over more sauce as desired.
Gluten free
Nut free
Vegetarian
Vegan (ensuring sauces are vegan)
Dairy free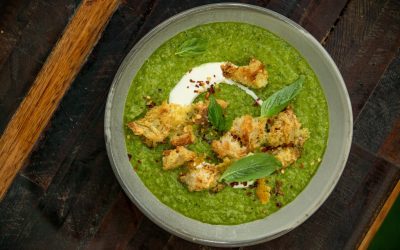 Ingredients: 2 heads broccoli 1 large leek, halved lengthwise, rinsed 2 tbsp extra virgin olive oil 1 head garlic, unpeeled 4 cups (1L) chicken or vegetable stock 120g baby spinach leaves 125g sour cream, plus extra to serve Chilli flakes & herbs, such as basil,...