Crispy Vietnamese Pancake
Ben O'Donoghue
Pancake Batter
350gm rice flour
½ teaspoon ground turmeric
Pinch of salt
1 teaspoon sugar
750ml coconut milk
2 teaspoons of sunflower, plus extra for cooking pancakes
250ml of water plus extra if required to make the batter smooth
Filling
2 teaspoons of sesame oil
4 chicken thighs de-skinned, boned and diced
1 packet of cooked prawns
1 teaspoon of finely grated ginger
2 cloves of chopped garlic
1 slice brown onion
3 bunches of spring onions sliced on a long diagonal root removed
1 large handful of bean sprouts
Soy sauce to taste
Garnish
8 nice iceberg lettuce leaves
½ bunch of basil
½ bunch of mint
2 limes cut in quarters
Batter
Sift the rice flour and turmeric, salt and sugar into a mixing bowl. Stir in the coconut milk, sunflower oil and water until well combined and the batter is smooth with a pouring cream consistency.
Filling
Stir fry the chicken thigh meat in a little sesame oil with a little of the garlic and ginger until just cooked and set aside. Then stir fry the spring onion; beans sprouts with the remaining garlic and ginger add the prawns and the cooked chicken thigh and season with soy sauce and set aside, keeping warm.
Pancakes
In a large non-stick large fry pan or well-seasoned wok heat two tablespoons of sunflower oil. Pour in enough batter to make a nice thick pancake, swirling the batter around the pan to make an even thickness, let this cook on one side for about 3-5 minutes until golden and crispy. (You can make large ones or small ones. To share or individually)
Add enough filling to one half of the pancake. Then fold over the unfilled portion and serve with a lettuce leaf cup and the fresh herbs. The Idea is to make your own lettuce pocket filled with the pancake and the herbs and a squeeze of lime.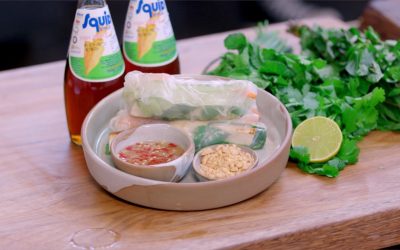 This recipe is brought to you by our friends at Asian InspirationsIngredients:Serves: 8 Prep Time: 10 mins Cook Time: 15 mins Main Ingredients: 1 packet rice paper 150g rice vermicelli noodles 1 bunch coriander 1 bunch Thai basil 1 bunch mint 1 bunch garlic chives 1⁄4...