Curry Tsukemen
Chef Kinsan
Serves 2
180g Ramen noodles (2 bunches)
100g Chicken Thigh, sliced
300ml Water
1 tsp Dashi Stock Powder mixed with 500 ml water
2 tsp Soy Sauce
1 tbsp Obento Mirin Seasoning
1 tsp Obento Cooking Sake
2 cubes S&B Golden Curry Medium Hot
Garnish
15g Spring Onion, finely sliced
Cook ramen as per pack instructions. Cool in iced water, drain.
In a saucepan bring water to boil, add chicken & poach for 10 minutes.
Add dashi mix, soy sauce, mirin and sake to make broth.
Add S&B Golden Curry cubes and mix well, making a dipping sauce.
Serve curry in a small bowl or cup and garnish. On the side, serve cold noodles on a plate and enjoy dipping noodles in the curry sauce.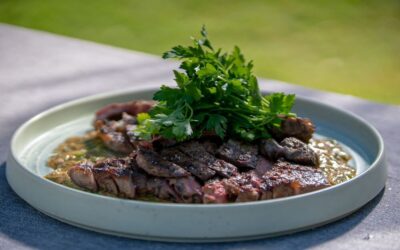 Ingredients: Serves: 2-4 2 x 250g T-bone or Rump steak Sea salt 2 Tbsp Olive oil 2 Tbsp Butter 1 brown onion, diced 2-3 cloves garlic, finely chopped 1 tsp dried chilli flakes 2 tsp dried mixed herbs 40 'twists' cracked black pepper 2 chicken stock cubes, crumbled 2-3...