Field of Greens
Khanh Ong
2 Tbs of tin chickpeas rinsed and drained
Vegetable for frying
2 tsp Olive oil
1 head broccoli, sliced
100g green beans
2 cloves garlic, crushed
1 Chorizo, sliced 2-3Tbs
Store bought hummus
Elena's Aussie Dukkah
Egg, poached in the microwave
50g pea-shoots
Heat vegetable oil in a shallow frying pan, dry off the moisture from the chickpeas and place into hot oil cover and fry for 30 seconds to 1 minute or until crisp. remove and place onto paper towel pinch of salt and set aside.
Place another pan on a medium heat with 1tsp of olive oil, add broccoli and fry for 3 minutes or until charred then turn. Add beans cook for 1 minute then add garlic and toss into the same pan add chorizo and cook for 2 minutes, when crisp turn and cook the other side
To service, with a spoon spread out hummus onto a plate and sprinkle over dukka. Place chorizo, broccoli, garlic, poached egg on top of hummus. Garnish with pea shoots and crisp chickpeas.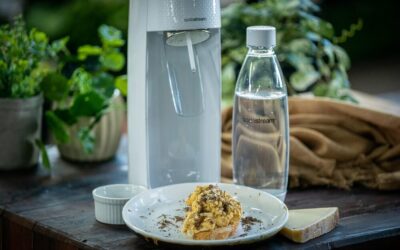 Ingredients: Serves 4 12 eggs, best quality you can afford 150ml sparkling water 2 tablespoons freshly grated parmesan Sea salt and freshly cracked pepper 20g butter 4 thick slices of sourdough, toasted/charred Method: Mix together the eggs, sparkling water, parmesan...