200g of snapper filet, cut in 3cms slices
8 corn tortillas
Vegetable oil
Batter:
4 corn tortillas
3 tbsp corn flour, have some extra for coating
1tbsp baking powder
1 egg
1 tbsp chipotle in adobo
1 tbsp garlic powder
¼ cup of mineral water
Avocado Salsa:
1 small zucchini, diced vertically in 4 parts
2 avocados, preferably hash
2 garlic cloves
½ onion, preferably white or yellow
2 jalapenos chillies, cut in half and stalk removed
½ bunch of coriander
¼ cup veggie stock
2 tbsp extra virgin olive oil
1 lime, juiced
Salt to taste
Garnish:
½ purple cabbage, finely chopped
½ bunch of coriander, finely chopped
1 lime, juiced
2 tbsp extra virgin oil
Cover a frying pan on a thin layer of oil and bring the flame to medium heat.
Lightly fry the zucchini, chillies, onion and garlic; remove when starting to get brown and place in a blender.
Add the lime juice, coriander, veggie stock, olive oil, avocado and salt. Blend until you have achieved a smooth consistency.
Place in a sealed container and store in the fridge until ready to serve.
In a bowl, mix all the ingredients for the garnish.
Prepare the batter by mixing all the ingredients in a food processor or blender. Add the mineral water slowly until you achieve a thick consistency for the batter.
Place the batter in a mixing bowl, and the additional corn flour on another. In a frying pan or fryer, add enough oil to submerge the fish and heat the oil at medium temperature.
Grabbing one piece of fish at a time, toss it on the flour, then cover with batter and put it in the hot oil. Place the battered fish on paper towels to absorb the extra oil.
On a very hot frying pan, place the corn tortillas on each side until soft and floppy, wrapping them in a tea towel as you go to stay warm.
Assemble the tacos by putting a piece of fish on each tortilla, then garnish followed by salsa on top.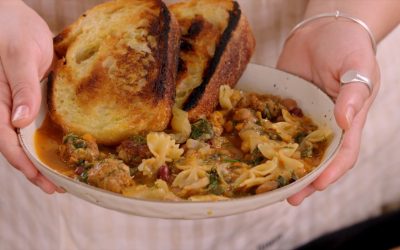 Ingredients: 4 Spicy Italian Sausages Packet of Farfalle Pasta 1 Leek 1 Carrot 1 Onion 2 Garlic 2 cups Shredded Cabbage 1 Chopped Silver Beet 1 400gm Tinned Beans 1 tsp Cumin powder 1 tsp Coriander  powder 1tsp Paprika powder 2 tbsp Tomato Paste Stock of your choice...