Flourless Raspberry Cake
Kathy Tsaples
Cake
200g Fresh or frozen raspberries
12 eggs
500g Caster sugar
500g Almond Meal, plus extra
2tsp baking powder
¼ tsp salt
Icing
2 cups icing sugar
2 tbsp lemon juice, strained
Garnish
2tbsp Rose petals
2tbsp Pistachios
Handful of fresh raspberries
Preheat the oven to 180C/160C fan-forced. Butter a 25-centimetre round cake tin and sprinkle it with almond meal, flour or gluten free flour if required.
Pulse the raspberries in a food processor until they are a fine puree. In a large bowl, whisk the eggs and sugar together. Add the raspberry pulp and mix thoroughly. Add the almond meal, baking powder and salt and combine thoroughly.
Leave the batter to rest for 10 minutes, then pour it into the prepared tin and bake for 1 hour, or until a skewer inserted in the middle comes out clean. Remove from the oven and cool on a rack.
Make the icing by mixing the icing sugar with 1 tablespoon of the lemon juice, gradually adding more lemon juice as necessary to achieve a drizzling consistency. When the cake has cooled, pour the icing over the top and let it drip down the sides. Decorate with rose petals, fresh raspberries and pisachios.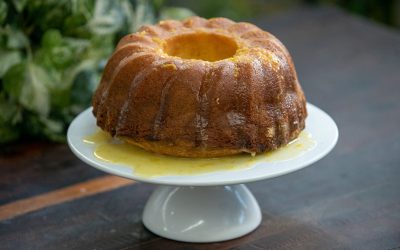 Ingredients: 300 g dairy-free margarine 300 g gluten-free plain flour , plus extra for dusting 300 g golden caster sugar 4 large free-range eggs 3 lemons 2 oranges 2 teaspoons gluten-free baking powder ½ teaspoon xanthan gum 100 g icing sugar Method: Preheat the oven...