Gaytime Cookies
Warren Mendes
Makes: 12
2/3 cup plain flour
1/3 cup self raising flour
1/3 cup raw caster sugar
1/3 cup brown sugar
1/3 cup malted milk drink powder
75g unsalted butter, melted and cooled
1 egg
200g dark chocolate, melted
Vanilla bean ice cream and sea salt flakes to serve
Crumb:
1/3 cup self raising flour
1 tbsp caster sugar
1 tbsp brown sugar
25g unsalted butter, melted and cooled
For the cookies, combine the flours, sugars and malt in a bowl then stir to distribute all the ingredients. Add the butter and egg then mix well to combine. Chill for 20 minutes to firm up slightly.
Preheat the oven to 180 conventional (160 fan forced) and line two baking trays with baking paper. Using 1 tbsp mixture roll into balls and spread across the trays, making sure there is a gap between each cookie. Bake for 10-12 minutes, swapping the trays half way, until golden. Cool.
For the crumb, combine all the ingredients and crumble onto a baking tray lined with baking paper. Bake for 10 minutes then cool and crumble.
Drizzle each cookie with melted chocolate then scatter with cookie crumb and some salt flakes. Allow to set. Serve sandwiched between ice cream to make ice cream sandwiches.
Our friends at Wine Selectors suggest pairing this dish with a Liqueur Topaque.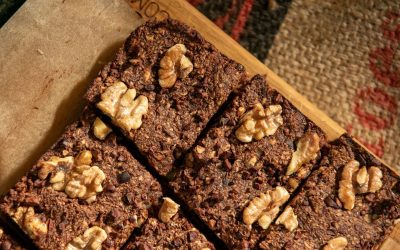 This recipe is brought to you with the help of our friends at JC's Quality Foods Ingredients: 1 ½ cups raw cashews 1 ½ desiccated coconut 3 medium ripe bananas, peeled and chopped 10 fresh dates, pitted 2 tsp vanilla extract ⅓ cup raw cacao powder ½ tsp bicarbonate of...