20g Fast acting yeast
30g Honey
400g GF Bread Flour
100g Warm Water
100g Buttermilk or yoghurt
100g EVOO
2 Eggs
1tsp Salt
Toppings
1tbsp Italian herbs, dried
1tsp Onion powder
1tsp Garlic powder
100g Tomato paste
150g Sliced black olives
250g Tasty cheese, grated
150g Onions, finely diced
Preheat oven to 160° Celsius, fan forced.
Combine yeast, honey and water in a bowl and set aside for up to 30minutes.
In a large bowl, place, flour, buttermilk, EVOO, eggs and salt, loosely combine and add water mixture.
Using a pastry paddle or your hand, bring ingredients together; dough will be moist and sticky. Ensure dough is kneaded well in bowl, up to ten minutes.
Cover bowl with a tea towel or glad wrap and set aside in a warm spot for up to 30 minutes.
Remove wrap and knock down dough, bring together again and recover for an additional 30minutes.
In a greased pizza tray, place the dough in the centre and gently work out to all the edges with your fingertips, being careful not to tear it apart. Strive for an even height throughout the base.
In a bowl, mix dried herbs into tomato paste, set aside for five minutes.
Using the back of a spoon, spread tomato paste all over the base as evenly as possible.
Sprinkle cheese evenly all over the base, evenly.
Sprinkle onions evenly all over the base, evenly.
Sprinkle olives evenly all over the base, evenly.
Bake for 35-45minutes or until base is crisp and top is golden.
Allow cooling for easier slicing, or eat hot and slightly gooey.
Notes
Utilise your favourite topping and cheeses to make this your own focaccia.
Incorporate your favourite herbs into the dough mix for extra tasty base or to use this as a bread only recipe on an antipasto board.
Gluten free
Nut free
Vegetarian
Vegan, optional – replace buttermilk with additional water, and replace honey with sugar, and leave off cheese.
Pescatarian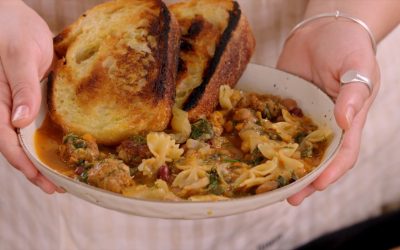 Ingredients: 4 Spicy Italian Sausages Packet of Farfalle Pasta 1 Leek 1 Carrot 1 Onion 2 Garlic 2 cups Shredded Cabbage 1 Chopped Silver Beet 1 400gm Tinned Beans 1 tsp Cumin powder 1 tsp Coriander  powder 1tsp Paprika powder 2 tbsp Tomato Paste Stock of your choice...