Gin and Tarragon Lemonade
Tobie Puttock
Two servings Gin
SodaStream Lemonade Syrup
Approx 500ml Sodastream
Carbonated Water
2 tarragon sprigs
1/2 lemon, finely sliced
Ice
Fill the serving glasses with ice.
Add lemonade syrup and top up with carbonated water
Add the tarragon and lemon slices for garnish and serve.
For chef quality results, we recommend using Anolon cookware!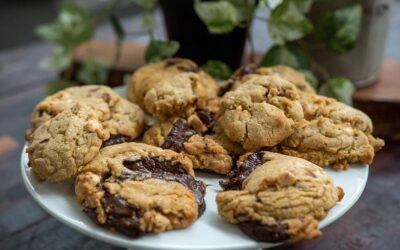 Ingredients: 250g Plain Flour 250g Bread flour 1 tsp baking powder 1 tsp sea salt 125g Butter, unsalted 125g Light brown sugar 125g Caster Sugar 1 large Egg 1 tsp vanilla extract 100g Dark chocolate block 100g White chocolate chips Method: Preheat oven to 180 degrees...