Gin Cured Fish
Matt Wilkinson
Serves 4 as a shared dish

Cured Fish
250g white fleshed fish like Blue eye, snapper, kingfish
2 tablespoons Four Pillars Gin Salt or salt flakes
75ml Four Pillars Rare Dry Gin (optional)
1 jar of Four Pillars Orange Marmalade or juice of 1 orange
Salsa Verde aka Green Sauce
4 Cornichons roughly chopped
1 tablespoon capers roughly chopped
Handful of mixed herbs: chives, dill, parsley, mint, washed and roughly chopped
Pinch of salt
Juice & zest of 1 lemon
100ml Australian olive oil
Pickled Shallots
2 shallots
Pinch of salt
Pinch of sugar
50ml Four Pillars Bloody Shiraz Gin or water
50ml good quality white wine vinegar
Have the fishmonger remove any skin from the fish and ask him nicely to cut it into fat finger length strips. Mix in the salt and gin, massaging into the fish. Let sit for 1 hour in the fridge.
To make the salsa verde, place all ingredients into a bowl and mix together, adding more olive oil if needed.
To prepare the pickled shallots, thinly slice the shallots, then add salt and sugar and let sit in a bowl for 2-3 minutes before pouring over the liquids.
Rinse the fish in a bowl of cold tap water, pat dry with towel then thinly slice. Just before serving, liberally add the marmalade over the fish or squeeze juice of orange over.
To serve, spoon the salsa verde onto the bottom of a serving plate or platter. Carefully arrange the pieces of marmalade-topped gin cured fish on next. Add the pickled shallots around and serve.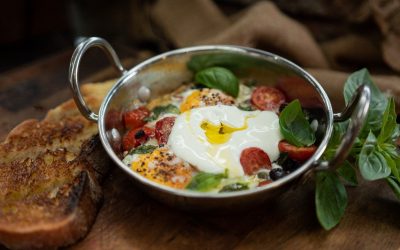 Ingredients: 9 cherry tomatoes, halved 1 small garlic clove, thinly sliced 2 tsp good-quality olive oil 1 tsp balsamic vinegar 5 basil leaves, torn, plus a few extra to serve if you like 5 pitted olives, sliced 2 large free-range egg 1 tsp small capers, rinsed salt...