Ginger Caramel Rockling and Pork Belly
Khanh Ong
1 tbsp caster sugar
2 tsp veg oil
60 g pork belly thinly sliced
30g ginger julienned
1 long red chili finely sliced
1 tbsp fish sauce
100ml coconut water from white coconut
200g rockling fillet skin off
To Serve:
Thai basil
Steamed rice
Fresh chili
In a medium saucepan with a lid add caster sugar and cover with oil
Cook until just caramelised and golden
Add pork belly and stir immediately
Add ginger, chili, fish sauce and cook for 2-3 minutes
Add coconut water
Cook for 2-4 minutes then add rockling and cover with a lid to steam for 3-5 minutes.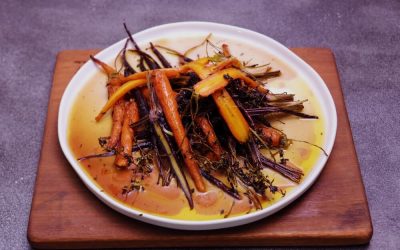 Join Elena Duggan as she creates her Honey Herbed Carrots recipe. Tune in to The Market kitchen each weekday on Channel 10.