Kale Gnocchi
Tobie Puttock
320g semolina plus a little extra
40g greens such as spinach or Tuscan kale
Extra Virgin Olive Oil
Sea salt and cracked pepper
Pesto
1 garlic clove, peeled
20g pine nuts
50g wild rocket
25g parmesan plus a little extra
Juice of 1 lemon
To make the gnocchi sardi first blanch the greens in boiling salted water until soft. The time will differ depending on what green you use. Once cooked refresh and then squeeze as much moisture out as possible.
Pop the blanched greens, semolina, a tablespoon of extra virgin olive oil and a pinch of salt into the bowl of a food processor and blitz until the greens have been totally chopped into the semolina. Add a quarter cup of warm water and continue to blitz until the mixture comes together into a dough (you may need another quarter cup of water). Allow to rest for at least 20 minutes wrapped in plastic wrap.
Divide the rested dough into four pieces keeping the pieces not in use wrapped in cling film. Use your hands to roll the first quarter into a long sausage shape until it's about 1cm in diameter and then use a knife to cut them into 1cm lengths. Roll the little pieces of dough across the gnocchi paddle or you can use a fork to do the same job. Dust a board or plate with semolina and rest the finished gnocchi on the semolina while you complete the remainder of the dough.
Bring a pot of salted water to the boil for the gnocchi sardi.
To make the pesto pop the garlic and salt into the bowl of a food processor and pulse a couple of times before adding the pine nuts, pulse a couple more times then add the rocket and olive oil and continue to pulse until you have a pesto consistency. Taste for seasoning, add the lemon juice and the parmesan and pulse to combine. Transfer the pesto to a bowl large enough to hold the gnocchi.
Lift the gnocchi out of the semolina and plunge them into the boiling salted water and cook until they rise to the top. Once cooked remove with a slotted spoon and add to the pesto. Carefully toss to combine and serve right away with some freshly grated parmesan cheese and a drizzle of extra virgin olive oil.
For chef quality results, we recommend using Anolon cookware!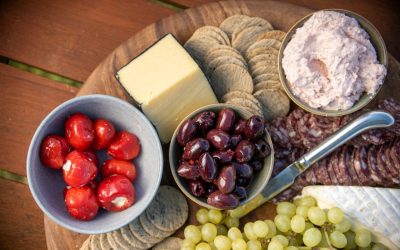 Ingredients: Hard Cheese Soft Cheese Blue Cheese 1 baguette  A bunch of Green Grapes Honeycomb Salami (sliced) Smoked Salmon Dip Artisan Crackers Beetroot dip Poppy Seed Skordalia Dip Dukkah Stuffed Bell Peppers Marinated Olives (pitted) Method: There are no rules or...