Green Tomato Salad and Anchovy Toast
Elena Duggan
1kg Green tomatoes
½ cup fresh baby basil, leaves only, reserve some
½ cup fresh oregano, leaves only, reserve some
¼ cup fresh thyme, leaves only, reserve some
100g soft feta, crumbled
1tsp salt, Murray River pink
2 medium bread rolls, gluten free optional
100g fresh or lightly oiled / cured anchovies
1 lemon, zest only
Dressing
100g EVOO, Australian
50gg Red wine vinegar
3 French shallots, finely diced
White pepper, to taste
Murray River salt, to taste
Optional Honey or Stevia to taste
Optional
Feta can be replaced with coconut yoghurt for a dairy free or vegan alternative.
Use garlic and lemon toast instead of anchovies.
Preheat grill oven to 180° Celsius.
Cut tomatoes into a combination of slices, wedges and unusual shapes.
Toss shallots through vinegar along with salt and pepper and allow sitting and softening for 15minutes.
Add olive oil herbs and tomatoes to vinegar shallot mixture and gently toss through.
Crumble the feta over the salad and garnish with reserved herbs.
Slice bread rolls and place anchovies, some of their oil and sprinkle the lemon zest evenly across the bread. Flatten out with the back of a knife so the anchovies are really a part of the toast. Grill on a lined tray for 5 minutes or until golden and crunchy and serve immediately alongside salad.
Gluten free, optional
Grain free, optional
Nut free
Vegetarian
Vegan option, optional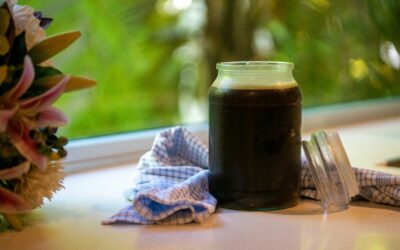 Ingredients: 2 cup caster sugar 2 cups soy sauce 1 cup shao-hsing wine 3L water 2 inch piece ginger 8 cloves garlic 6 spring onions, 5cm batons 8 star anise 8 coriander seeds 4 cinnamon quills 4 cloves 2 pork trotters Method: Place an even layer of sugar in a large...