Grilled Lemongrass and Ginger Beef
Elena Duggan
2 x 250g sirloin steaks, or your favourite thick steak cut
Marinade
2 Lemongrass stalks, soft interior of lower half, finely diced/ crushed
2 thumbs of ginger, finely diced/ crushed
1 clove garlic, crushed
50g Peanut oil
25g Yeo's Sesame oil
25g Stevia
25g Tamari (gluten free soy sauce alternative)
Salad
2 lge Lebanese cucumbers, peeled, skinned, deseeded, sliced on an angle
50g mixed Asian herbs – mint, Vietnamese mint, Thai basil, perilla, extra for garnish
Salad Dressing
25g Yeo's Sesame oil
1 Lime, juice and zest
10g Stevia
25g Squid Brand Fish sauce
1 Long red chili, deseeded, finely diced
Combine marinade ingredients in a large flat dish. Marinate your steaks for 1-24 hours ahead of cooking, airtight in the fridge.
Remove from fridge and bring back to room temperature at 30-45 minutes before cooking.
Preheat your outdoor barbecue or grill to high.
Place steaks on grill on an angle to ensure presentation grill marks at the end will form a cross pattern. Cook on first side for 2-3 minutes. Flip and cook for 2-3 minutes. Flip and place on a diagonal, and cook for 1 further minute, and repeat on other side. Rest for 4-5 minutes covered under aluminum foil before cutting in a diagonal against the grain.
While the meat is cooking and resting, prepare the salad dressing by mixing in a jug. Stir thoroughly to dissolved stevia and immerse chill, to soften.
Toss cucumbers through dressing and place on a flat platter. Sprinkle over mixed herbs.
Place cut steak pieces along or around the edge of the salad, serve while still warm.
Gluten free
Grain free (leave off corn/ corn chips)
Nut free
Low fructose/ sugar free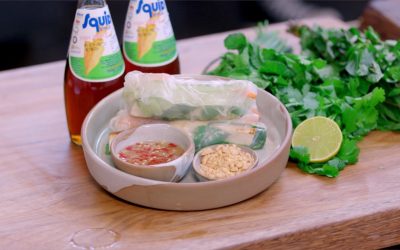 This recipe is brought to you by our friends at Asian InspirationsIngredients:Serves: 8 Prep Time: 10 mins Cook Time: 15 mins Main Ingredients: 1 packet rice paper 150g rice vermicelli noodles 1 bunch coriander 1 bunch Thai basil 1 bunch mint 1 bunch garlic chives 1⁄4...