Harrissa Dressing
Elena Duggan
250g natural or Greek yogurt
1 bunch parsley, leaves and small stems
1 bunch coriander, leaves and small stems
4 garlic cloves
1 whole jalapeño, deseeded
1 green capsicum, deseeded
3 green Serrano chilies, deseeded
1tsp coriander, ground
1tsp cumin, ground
1tsp caraway, ground
50g EVOO
½ teaspoon salt
In a food processor, place all ingredients except yoghurt. Pulse and scrape down sides until finely diced.
In a bowl, using a spoon, stir through yoghurt until combined.
Serve chilled.
Notes
Stirring through the yoghurt rather than placing in the food processor maintains some volume in the sauce, rather than making it too runny.
Health and Lifestyle Notes:
Grain Free
Gluten Free
Refined Sugar Free
Sugar Free – Low Fructose
Ketogenic Friendly
Vegetarian
Vegan, optional- utilise coconut yoghurt instead of dairy yoghurt
Pescatarian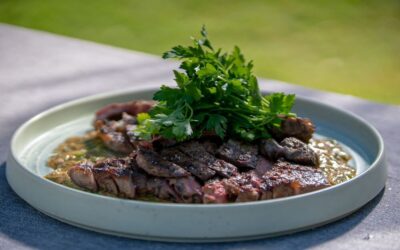 Ingredients: Serves: 2-4 2 x 250g T-bone or Rump steak Sea salt 2 Tbsp Olive oil 2 Tbsp Butter 1 brown onion, diced 2-3 cloves garlic, finely chopped 1 tsp dried chilli flakes 2 tsp dried mixed herbs 40 'twists' cracked black pepper 2 chicken stock cubes, crumbled 2-3...