Herb Yoghurt Dip
Simone Austin
2 scoops Ensure Vanilla powder
1 clove finely chopped garlic
1 teaspoon finely grated lemon rind
Juice of half a small lemon
¼ cup fresh chopped herbs (mint and parsley)
1 ½ cups natural yoghurt
2 tablespoons Macadamia nuts roughly crushed
Salt and pepper to taste
Mix together the garlic, herbs, lemon juice and lemon rind in a small bowl
Separately mix the Ensure Vanilla powder into the yoghurt until mixed through, then add to the initial mixture and stir thoroughly. Season with salt and pepper to taste.
Sprinkle with crushed macadamia nuts and extra chopped herbs.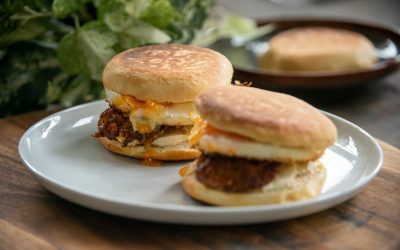 Ingredients: 300ml milk, plus extra 7g sachet of dried yeast 25g white caster sugar 50g shortening or lard 425g plain flour, plus extra 20g polenta, optional Unsalted butter Method: Gently warm the milk in a pan until lukewarm or body temperature, 37ºC. Add the yeast...