Herbed Mushrooms
Elena Duggan
1kg Mixed mushrooms, torn or cut into bite size pieces
50g Mixed fresh woody herbs – thyme, rosemary, sage – leaves only
100g Pine nuts, lightly toasted
50g Butter
50g EVOO, additional if desired
Optional Dressing:
Heat EVOO in a large non-stick fry pan over a medium heat and fry herbs until fragrant, approximately 2-3minutes.
Increase heat to medium-high, place mushrooms into fry pan and cook until until softening and browning, whilst stirring occasionally.
Add pine nuts and butter to same pan, increasing heat to high and warm through for up to 5 minutes or until mushrooms have absorbed most of the butter.
Dress if desired whilst warm and serve immediately.
Grain Free
Gluten Free
Refined Sugar Free
Sugar Free – Low Fructose
Dairy Free use additional EVOO instead of butter
Nut free, exclude pine nuts
Paleo Friendly
Ketogenic Friendly
BulletProof Friendly
Vegetarian
Vegan, optional, use additional EVOO instead of butter
Pescatarian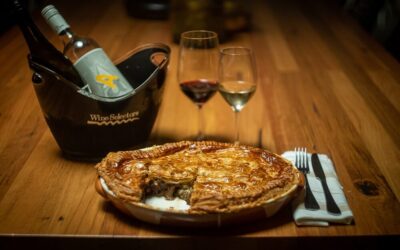 Ingredients: 1kg of chuck, flank, shin or brisket trimmed and cut into 3cm cubes 2 clove of garlic 1 small bunch of thyme 1 tspn of black peppercorns 500ml Guinness or dark ale 8 shallots peeled 1 tbsp vegemite 500gm bought puff pastry 100gm Stilton blue cheese or...