Home Made Peaches and Thyme Syrup
Tobie Puttock
Makes a small jar of syrup
500g fresh or frozen peaches
4 sprigs fresh thyme
100ml fresh water
80g coconut or raw sugar
Pinch of sea salt
Place all of the syrup ingredients into a saucepan over a medium heat and cook stirring from time to time.
Once the sugar dissolves, place a lid slightly askew and allow the peaches to cook for 20-30 minutes until the peaches are soft and the liquid is syrupy.
Remove the thyme sprigs from the pot and pour the remaining ingredients, strain the puree through a sieve into a sterilised jar. Keep in the fridge for unto 2 weeks.
To assemble, spoon some of the syrup into a serving glass and top with sparkling water.
I first bought a soda stream some time ago to reduce the amount of plastic bottle we needed to recycle. I quickly started making my own syrups at home, often with ingredients I had an abundance of and by doing this I can give a whole new life to these ingredients.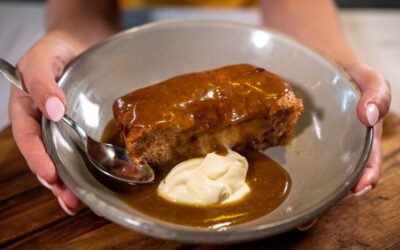 Ingredients: 185 g dates 1 cup water 60g butter 2 eggs 185g self raising flour 185g sugar 1tsp baking powder ½ tsp vanilla paste Butterscotch Sauce: 1 cup cream ¾ cup brown sugar 2 tbsp butter Pinch of salt Method: Bring the dates and water to a boil, then remove from...