Homemade Paneer
Matt Sinclair
Makes: 4
1 Litre full cream milk
1-1.5 Tbsp white vinegar
Prepare a muslin cloth or chux over a bowl.
Place milk into a heavy-based pan over a medium heat. Bring the milk up to a light simmer, stirring often to avoid sticking at the bottom of the pan.
Turn off the heat and slowly add the vinegar a little at a time. When the milk begins to curdle (whey separating) stop adding the vinegar and allow the milk to sit for about 5-10 minutes.
Drain the curdled milk into the cheesecloth or chux and rinse the cheese gently with cold water to remove the acidity. Bring the sides of the cheesecloth up and gently squeeze as much of the excess water out as you can.
Place the cheesecloth on a flat plate or surface and flatten the cheese out a little. Cover with a plate or tray and place something heavy on top such as a mortar and pestle. This will allow the cheese to set harder. Leave undisturbed for 1 to 2 hours. Once the paneer is set, remove it carefully from the cheesecloth and cut into cubes ready for use. Cover and refrigerate.
Our friends at Wine Selectors suggest pairing this dish with a Sauvignon Blanc.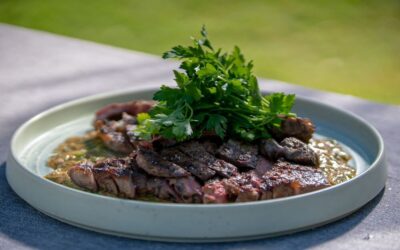 Ingredients: Serves: 2-4 2 x 250g T-bone or Rump steak Sea salt 2 Tbsp Olive oil 2 Tbsp Butter 1 brown onion, diced 2-3 cloves garlic, finely chopped 1 tsp dried chilli flakes 2 tsp dried mixed herbs 40 'twists' cracked black pepper 2 chicken stock cubes, crumbled 2-3...