Honey Mustard Crispy Potatoes
Elena Duggan
1kg Chat Potatoes/ other baby potatoes
75g EVOO
1tsp Murray River salt flakes
1tbsp Wholegrain mustard
2tbsp Honey
Preheat oven to 160° Celsius, fan forced.
Cut all potatoes in half; submerge in water in a medium saucepan. Bring to the boil then reduce to a medium simmer. Cook the potatoes until just cooked through. Strain potatoes and slightly rough up edges by tossing in colander. Allow all steam to fully escape so there's little to no moisture left internally.
Toss potatoes in EVOO and salt and place in a baking dish. Roast for 30 minutes and give a good toss. Increase the temperature to 220° Celsius, fan force and return potatoes to the oven for an additional 30-45 minutes or until thoroughly golden and crispy.
Toss hot potatoes through mustard and honey and serve as a snack or side.
Gluten free
Grain free
Dairy free
Nut free
Vegetarian
Pescatarian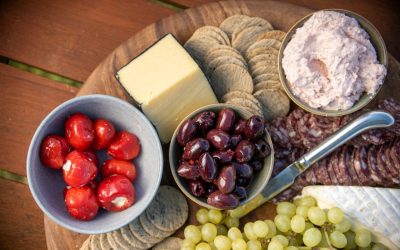 Ingredients: Hard Cheese Soft Cheese Blue Cheese 1 baguette  A bunch of Green Grapes Honeycomb Salami (sliced) Smoked Salmon Dip Artisan Crackers Beetroot dip Poppy Seed Skordalia Dip Dukkah Stuffed Bell Peppers Marinated Olives (pitted) Method: There are no rules or...