Hot Cross Brioche Buns
Laucke Flour
500g Laucke Brioche Mix
4g Dried Yeast (supplied)
300g or 250g Water (50g less if using a mixer or by hand or removing the dough from the breadmaker)
30g Mixed Spice
350g Mixed Dried Fruit (if making fruited buns)
Crossing Mix
100g Laucke Wallaby Bakers Flour
30g Butter
5g Baking Powder
80 – 100mls water (Variable to adjust pipability)
Pre Bake Glaze
1 egg
50ml Milk

Thoroughly combine egg and milk and set aside – strain just before use.
Post Bake Glaze
100mls Boiling Water
100g Castor Sugar

Mix well with water until sugar is dissolved
Combine the mix, yeast, spice and water in the breadmaker bowl in the order preferred by the manufacturer or into the bowl of a mixer with the dough hook attached. If the dough is not being baked in the bread maker or is being mixed by hand reduce the water by 50 mls.
If mixing by hand it may take 10 – 15 minutes to achieve a nice smooth well developed dough.
If mixing by bench top mixer you should mix until you have a smooth shiny dough which will leave the sides of the bowl very clean. If your mixer is capable you can use medium to high speed.
If using the dried fruit add to the breadmaker 10 minutes before the end of mixing otherwise mix in on slow speed or mix in by hand until evenly distributed. Also remember to leave 50 ml water out if not baking in the breadmaker.
When the dough mixed, tip it onto a floured surface and divide the dough into 80 g pieces if leaving plain or 100 g if fruited. Shape them as you wish and place on papered or greased trays leaving sufficient space for them to rise. If making a loaf shape to the length of the pre oiled pan and place the dough in. Gently flattening and rolling the dough up will provide a better loaf.
Find a warm place to allow the buns to rise, keep them covered. Or uncovered in your oven (not turned on) with a baking dish full of boiled water is a good proofer.
Allow the dough buns to almost double in size and then using a piping bag with a nozzle to suit the thickness of cross you wish to apply, pipe crosses on top of the buns.
Then spray with the prepared glaze. If you do not have a spray bottle brush with glaze prior to crossing.
Turn oven on to 180°C. If oven is slow to heat up allow 10 minutes otherwise place tray/s in oven.
Bake for approximately 15 – 25 minutes to desired colour. A loaf will take 35 – 40 minutes.
Glaze using the Post Bake Glaze as soon as you remove from the oven.
Notes:
Brioche can be formed and baked many different ways using different tins, moulds and even free form or plaits.
This complete dough would be suitable for baking in a large bread pan but would need to be baked for 45 – 50 minutes.
The best way to tell if Brioche is baked is to look for an even golden colour. It may be necessary to turn the trays in the oven to get even browning.
For an added effect after baking, brush the tops with melted butter.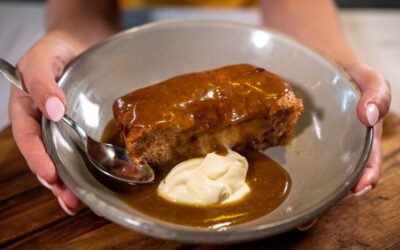 Ingredients: 185 g dates 1 cup water 60g butter 2 eggs 185g self raising flour 185g sugar 1tsp baking powder ½ tsp vanilla paste Butterscotch Sauce: 1 cup cream ¾ cup brown sugar 2 tbsp butter Pinch of salt Method: Bring the dates and water to a boil, then remove from...