Ketchup Tomato Sauce
Elena Duggan
750g Tomatoes, fresh, diced (Passata can be used as an alternative)
150g White onion, fresh, finely diced
50g Apple cider vinegar
50g Stevia / Monk fruit
10g Garlic powder
10g Onion powder
10g Murray River salt
5g White pepper, ground
2.5g Xantham gum, if a better holding sauce is desired
Optional
Place all ingredients in a medium saucepan and bring to the boil.
Reduce heat to a low simmer and cook uncovered for 30 minutes or until the liquid has reduced by a third.
Allow liquid to cool.
Optional step, sieve ingredients to reduce texture of seeds. Blitz passed liquid in a high-speed blender.
Transfer to a clean, sterilized jar and refrigerate up to four weeks.
Notes
Use as a flavour base when marinating meat or as an accompaniment to many dishes, burgers, chips, eggs, etc.
Gluten free
Egg-free
Lactose free
Nut free
Vegetarian
Vegan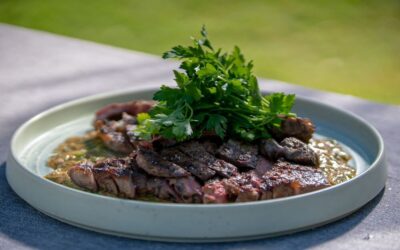 Ingredients: Serves: 2-4 2 x 250g T-bone or Rump steak Sea salt 2 Tbsp Olive oil 2 Tbsp Butter 1 brown onion, diced 2-3 cloves garlic, finely chopped 1 tsp dried chilli flakes 2 tsp dried mixed herbs 40 'twists' cracked black pepper 2 chicken stock cubes, crumbled 2-3...