1 lamb shoulder, boneless 900-1300g
6 French shallots, roughly chopped
25g / 1bunch chopped sage
25g / 1bunch chopped thyme
2 Lemons, zest only, reserve juice
2 cloves garlic crushed
50g EVOO
6 Lebanese eggplant
6 Zucchini
Dressing
1lge red onion, finely diced
2lge tomatoes, finely diced
25g capers, losely chopped
2 gloves garlic, crushed
1 bunch basil, leaves only, finely chopped
1bunch Flat leaf parsley, finely chopped
100g EVOO
75g red wine vinegar
Preheat the barbecue to high (or Griddle Pan)
Prepare the marinade minimum 20 minutes, but up to 24 hours ahead of time is fine, either in a mortar and pestle or food processor, blitz the shallots, sage, thyme, lemon zest, garlic and slowly drizzle in the EVOO until well combined. Spread evenly all over the lamb on all sides, allow to sit at room temperature for 20 minutes before cooking.
Slice eggplant and zucchini in halves or strips, brush with olive oil and season, set aside for cooking.
Place lamb shoulder on barbecue, flipping twice throughout cooking (approx. 30 minutes) until internal temperature is 65º Celsius for medium rare. Allow meat to rest for ten minutes before carving.
Whilst meat is resting, cook the vegetables over the barbecue, flipping once. When softened through and grill marks are visible, pile them onto a platter or board.
Whilst vegetables are cooking, combine all dressing ingredients in a bowl and set aside to serve.
Carve lamb into 1cm slices, place on top of vegetables and dress all, generously.
Serve with yoghurt flatbread to fold and eat – no utensils necessary.
Our friends at Wine Selectors recommend pairing this dish with a Shiraz Durif or Durif.
Grain free
Gluten free
Dairy free
Nut free
Zero refined sugar/ low fructose
Paleo friendly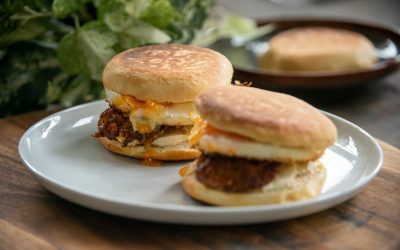 Ingredients: 300ml milk, plus extra 7g sachet of dried yeast 25g white caster sugar 50g shortening or lard 425g plain flour, plus extra 20g polenta, optional Unsalted butter Method: Gently warm the milk in a pan until lukewarm or body temperature, 37ºC. Add the yeast...