Lemon Tahini Yoghourt Dressing
Elena Duggan
75g Tahini
2 Lemons, juice and zest
75g Greek yoghurt
Water, to loosen if desired
Murray River salt, to taste
White pepper, to taste
Blitz in a high speed blender or with a whisk in a bowl.
Notes
Serve on meats, salads or vegetables.
Optional
Replace dairy yoghurt with coconut yoghurt for a vegan or dairy free alternative
Gluten free
Grain free
Egg free
Low fructose/ sugar free
Vegetarian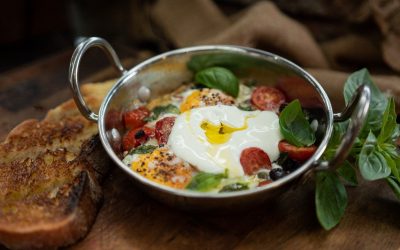 Ingredients: 9 cherry tomatoes, halved 1 small garlic clove, thinly sliced 2 tsp good-quality olive oil 1 tsp balsamic vinegar 5 basil leaves, torn, plus a few extra to serve if you like 5 pitted olives, sliced 2 large free-range egg 1 tsp small capers, rinsed salt...