Lemon Tahini Yoghourt Dressing
Elena Duggan
75g Tahini
2 Lemons, juice and zest
75g Greek yoghurt
Water, to loosen if desired
Murray River salt, to taste
White pepper, to taste
Blitz in a high speed blender or with a whisk in a bowl.
Notes
Serve on meats, salads or vegetables.
Optional
Replace dairy yoghurt with coconut yoghurt for a vegan or dairy free alternative
Gluten free
Grain free
Egg free
Low fructose/ sugar free
Vegetarian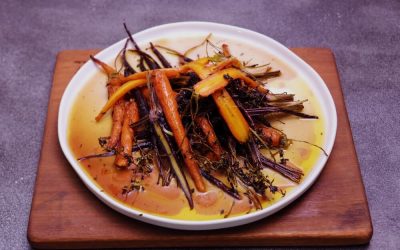 Join Elena Duggan as she creates her Honey Herbed Carrots recipe. Tune in to The Market kitchen each weekday on Channel 10.