Lemon Yoghurt Cake
Elena Duggan
Cake
EVOO for greasing cake tin
3 lge Eggs
100g Honey
1 Vanilla bean, seeds only, or 1tsp vanilla paste
2lge Lemons, finely zested and juice (yield approx. 75g)
300g Almond meal
100g Desiccated coconut
1tsp Baking powder
300g Jalna Greek yoghurt (or thick coconut yoghurt for dairy free)
100g EVOO
Pinch salt
Syrup
2lge Lemons, strip zested and juice (yield approx. 75g)
60g honey
2 Tbsp water
Cake
Preheat oven to 160° Celsius. Line the base of a 20cm cake tin, not spring form as it may leak, with baking paper, and grease the sides with butter or coconut oil.
Whisk eggs, vanilla and honey with an electric mixer until fluffy, before adding lemon zest and juice and continue to beat for another 2 minutes.
Add almond meal, baking powder, yoghurt, coconut and EVOO to bowl, and mix until thoroughly combined.
Pour batter into the lined cake tin and place it into a baking dish with water half way up the sides.
Bake for 45 minutes, or until lightly golden on top. If you notice your oven has a hot spot or cake is browning unevenly turn it around at this point.
Cook for another 25-30minutes at 180° Celsius, or until a skewer comes out clean.
Remove cake from oven and let sit at room temperature.
Syrup
Place lemon juice, zest, honey, and water into a small saucepan and simmer over low heat for 5 mins.
Poke holes all over cake and pour half the hot syrup over the cake, reserve zest.
Allow cake to sit with syrup for up to 30 minutes.
Turn out, upside onto serving platter. Serve with remaining zest and syrup.
Serve with additional yoghurt or cream as desired.
Gluten free
Grain free
Vegetarian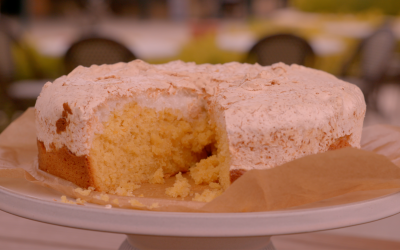 Ingredients:BASE 3 Egg Yolks 1/2 cup Caster Sugar 125g soft butter 2 cups Self-Raising flour 1 cup orange juice Vanilla   TOPPING 3 egg whites 1/2 cup caster sugar 1 cup desiccated coconut Method: Beat butter and sugar until creamy. Add yolks and vanilla. Fold in the...