150g Xylitol
1 Vanilla bean, seeds and pod
750g Whole milk
250g Whole cream
85g Cornstarch/ fine cornflour Gluten Free
25g Rosewater
Syrup
100g Raspberries
150g Pomegranate juice
25g Rosewater
50g Xylitol
To Serve
50g Blanched pistachios, sliced
25g Desiccated coconut
In a medium bowl, whisk approximately 150g of milk with the cornstarch, rose water, and vanilla seeds until the cornstarch dissolves and set aside.
Bring remaining milk, cream, vanilla bean and xylitol to a simmer in a saucepan over medium heat, whisking constantly. Remove vanilla bean pod
Lower the heat, pour in the dissolved cornstarch mixture and cook 8-10 minutes, stirring constantly, until the mixture begins to thicken.
Remove from the stove and pour into serving dishes.
Cover with plastic wrap and allow cooling to room temperature before refrigeration for a minimum of 4 hours, but overnight is also fine.
While the malabi is setting, prepare the syrup by placing raspberries, pomegranate juice, rosewater and xylitol to a gently simmer in a small pot. Simmer until berries are collapsed and xylitol is dissolved. Strain solids, so only syrup remains, allow cooling before serving.
Serve topped with the chopped pistachios, coconut and syrup, if desired.
Gluten free
Zero refined sugar
Vegetarian
Nut free, optional – do not serve with pistachios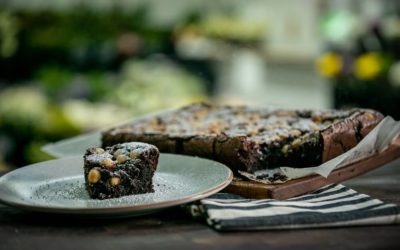 Ingredients: Makes 28 portions 12 eggs 800gm 900gm caster sugar 675gm 68% Madagascar chocolate 675gm-unsalted butter 225gm ground macadamia meal 225gm cocoa powder 300gm macadamia nuts Method: Preheat oven to 150 degrees Grease and line sponge tray with parchment...