Mandarin and Rosemary Soda
Tobie Puttock
2 mandarins
1 Fresh Rosemary Sprig
1/4 cup honey
Ice
Rosemary for garnish
Use a microplane or box grater to zest the mandarins and then juice the mandarin adding the zest into the juice.
Pour the juice and zest into a small saucepan, add the honey and rosemary and bring to a gentle boil for 1 minute. Remove and allow to sit in the pot to cool for a few minutes before straining out the solids. Allow the syrup to cool completely.
To Assemble add ice to a serving glass along with a couple of tablespoons of the syrup and top up with sparkling water garnish with rosemary and serve right away.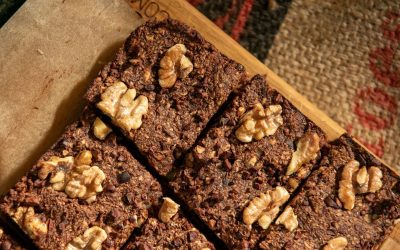 This recipe is brought to you with the help of our friends at JC's Quality Foods Ingredients: 1 ½ cups raw cashews 1 ½ desiccated coconut 3 medium ripe bananas, peeled and chopped 10 fresh dates, pitted 2 tsp vanilla extract ⅓ cup raw cacao powder ½ tsp bicarbonate of...