Mandarin and Rosemary Soda
Tobie Puttock
2 mandarins
1 Fresh Rosemary Sprig
1/4 cup honey
Ice
Rosemary for garnish
Use a microplane or box grater to zest the mandarins and then juice the mandarin adding the zest into the juice.
Pour the juice and zest into a small saucepan, add the honey and rosemary and bring to a gentle boil for 1 minute. Remove and allow to sit in the pot to cool for a few minutes before straining out the solids. Allow the syrup to cool completely.
To Assemble add ice to a serving glass along with a couple of tablespoons of the syrup and top up with sparkling water garnish with rosemary and serve right away.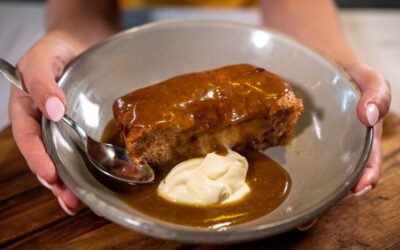 Ingredients: 185 g dates 1 cup water 60g butter 2 eggs 185g self raising flour 185g sugar 1tsp baking powder ½ tsp vanilla paste Butterscotch Sauce: 1 cup cream ¾ cup brown sugar 2 tbsp butter Pinch of salt Method: Bring the dates and water to a boil, then remove from...