Matcha Pistachio Bliss Balls
Elena Duggan
20g Matcha Powder
50g Almonds
50g Pistachio Nuts
50g Vanilla Protein Powder
50g Desiccated Coconut
50g Coconut Flour
75g Coconut Oil
50g Rice Malt Syrup
25g Nut Butter
Pink salt, to taste
In a large bowl combine all ingredients thoroughly.
Roll in tablespoon sized balls.
Cover and refrigerate until craving kicks in.
Health and Lifestyle Notes:
Grain Free
Gluten Free
Refined Sugar Free
Sugar Free – Low Fructose
Dairy Free
Paleo Friendly
Ketogenic Friendly
Vegetarian
Vegan
Pescatarian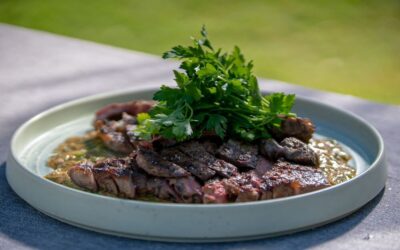 Ingredients: Serves: 2-4 2 x 250g T-bone or Rump steak Sea salt 2 Tbsp Olive oil 2 Tbsp Butter 1 brown onion, diced 2-3 cloves garlic, finely chopped 1 tsp dried chilli flakes 2 tsp dried mixed herbs 40 'twists' cracked black pepper 2 chicken stock cubes, crumbled 2-3...