Miso Chicken and Mushrooms
Elena Duggan
50g EVOO
1kg Chicken thigh fillets, skin on
500g Mixed mushrooms, shitake, shimeji, oyster, black fungus, nameko, maitake, matsutake
3cm Thumb of ginger, julienned
3 Cloves garlic, finely sliced
1 long Red chilli, finely sliced
1 lge Lemon, zest only, juice reserved
50g Miso paste, white
50-100g fresh wakame, or alternative dried seaweed such as Obento Yaki Nori in strips soaked in water and drained well
1L Chicken stock, homemade, additional reserved if desired
125g TCC Coconut milk, high quality- high % coconut content
Extra Enoki mushrooms for garnish
Coriander leaves for garnish
To Serve
With quinoa, jasmine rice, cauliflower rice cooked appropriately, of your choosing.
Optional
Drumsticks, whole chicken alternative to thighs, increase cooking time in oven.
Preheat your oven to 180º Celsius, fan forced.
Using an ovenproof heavy based casserole dish, heat EVOO over med-high heat on stovetop.
Cut chicken thighs into quarters, and cook one side down till just golden, flip and cook till golden on both sides, remove and put aside.
To the pan, add garlic, chili, zest, ginger and stir through until fragrant, approx. 2 minutes.
Add mushrooms and stir through for up to four minutes.
Stir in miso paste, and wakame.
Stir through stock and coconut milk; dislodge any flavour sediment on the bottom.
Return chicken to dish, skin side up. Place in oven uncovered, for 35-45 minutes or until chicken is golden and cooked through.
Add extra stock if a moisture required before returning to oven for 10 minutes.
Serve in dish with coriander leaves scattered all over. If desired serve with rice or alternative.
Gluten free
Grain free (leave off rice)
Nut free
Low fructose/ sugar free
Paleo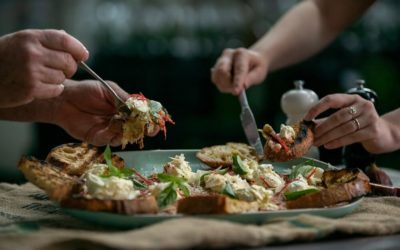 Ingredients: Serves 4 10 ripe figs 2 long red chillies ½ bunch basil Extra virgin olive oil 4 slices of sour dough bread 50g parmesan cheese 2 whole buffalo mozzarella ½ cup of crème criache Baking paper Method: Grill the chillies on your stovetop to blacken and...