Morning Mood Booster
Jemma O'Hanlon
Serves 4
4 ice cubes
2 cups Australian watermelon
1 cup Australian pineapple
1 Australian orange
2 Australian carrots
1 tsp fresh Australian ginger
¼ cup coconut water
1 tbsp fresh Australian mint leaves
Place all ingredients in a blender and process until smooth.
Serve in a glass with some extra fruit speared on a toothpick and a sprig of mint.
Tip: When in season, add 2 Australian lychees to the blender and substitute 1 cup of Australian watermelon with 6 Australian cherries (seeds removed). You can also add ½ cup yoghurt to add a boost of calcium for strong bones.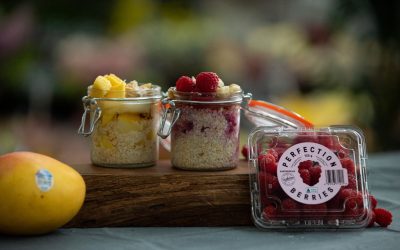 Can also be made with mangos.  Ingredients: 100g Raspberries, frozen (we use Raspberries from Perfection Fresh) 150ml Water 60g Rolled Oats  1 Tbsp Honey, organic  1 Tsp Peanut Butter Roasted nuts to garnish and fresh raspberries  Method: Mix the oats, water and...