Morning Mood Booster
Jemma O'Hanlon
Serves 4
4 ice cubes
2 cups Australian watermelon
1 cup Australian pineapple
1 Australian orange
2 Australian carrots
1 tsp fresh Australian ginger
¼ cup coconut water
1 tbsp fresh Australian mint leaves
Place all ingredients in a blender and process until smooth.
Serve in a glass with some extra fruit speared on a toothpick and a sprig of mint.
Tip: When in season, add 2 Australian lychees to the blender and substitute 1 cup of Australian watermelon with 6 Australian cherries (seeds removed). You can also add ½ cup yoghurt to add a boost of calcium for strong bones.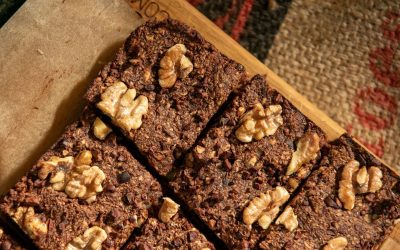 This recipe is brought to you with the help of our friends at JC's Quality Foods Ingredients: 1 ½ cups raw cashews 1 ½ desiccated coconut 3 medium ripe bananas, peeled and chopped 10 fresh dates, pitted 2 tsp vanilla extract ⅓ cup raw cacao powder ½ tsp bicarbonate of...