Moroccan lamb
Jason Johnson
Dineamic Moroccon Lamb Tagine 
Filo pastry
Canola spray
Sesame seeds, black and white
Coriander
Mint
Fine couscous
Pumpkin
Currants
Salt
Pepper
Chicken stock
Olive oil
Greek Yoghurt
Mango chutney
Self Raising flour
Baking powder
Turmeric
Couscous Side
Prepare your pumpkin first by dicing and roasting for 15-20 minutes until tender to touch but not mushy.
Next, boil water, Place 2 cups of dry couscous and half a handful of currants in a bowl and season with salt and pepper and olive oil.
Pour the water into the bowl about 1cm above the surface of the water and cover, let sit for 5 minutes.
Finely chop 1 cup of mint, using half in 200gm of yoghurt and the other half for couscous side.
Season yoghurt with half a lemon juice, ¼ cup of mint, salt and pepper.
Using a fork, fluff your couscous to loosen the grains and makes it easy to gently fold through your mint and roast pumpkin.
Flat Bread
To prepare the flat bread, add 1 cup of self raising flour, tsp of baking powder and 1 cup of yoghurt with salt, pepper and a good pinch of turmeric, combine all together, if too wet add a little more flour and if too dry add some more yoghurt.
Need and form into a ball cutting smaller dough balls to roll out into rectangle shapes.
Heat a nonstick fry pan with some coconut oil and fry each side of the flat bread for 1-2 minutes.
Filo Parcel
Prepare the couscous for filo parcel, place 1 cup of couscous in a bowl, season with salt and pepper and olive oil.
Pour boiling water to cover the surface of the couscous by 1cm, cover and allow to sit for 5 minutes.
Once the water is evaporated, fluff couscous and add 250g of cooked couscous to 500g pouch of cold Moroccan chicken or lamb pouch.
Get 4 whole sheets of filo spraying each sheet with canola oil spray, spoon 250g of the Moroccan casserole and couscous mix in the middle of the filo and fold sides into the middle and start to roll the filo to make a sausage roll shape filo parcel.
Spray the filo with canola spray and sprinkle sesame seeds on the top and bake for 20 minutes until golden.
Serve with minted yoghurt and mango chutney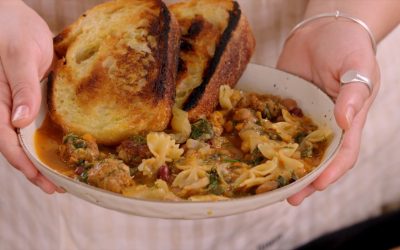 Ingredients: 4 Spicy Italian Sausages Packet of Farfalle Pasta 1 Leek 1 Carrot 1 Onion 2 Garlic 2 cups Shredded Cabbage 1 Chopped Silver Beet 1 400gm Tinned Beans 1 tsp Cumin powder 1 tsp Coriander  powder 1tsp Paprika powder 2 tbsp Tomato Paste Stock of your choice...