Muesli Bars
Georgia Barnes
Makes 14
1 cup puffed rice
1 cup whole oats
1 cup shredded coconut
1/2 cup pepitas
1/2 cup sunflower seeds
2 tbsp chia seeds
1/2 cup sulphite free sultanas
1/2 cup sulphite free goji berries
50g unsalted organic butter
1/4 cup coconut oil
3/4 cup raw honey
1/2 cup natural peanut butter, or other nut butter
2 tbsp hulled tahini
Pinch salt flakes
Grease and line a slice tin.
Mix dry ingredients together in a large bowl.
Place remaining ingredients into a saucepan. Stir until all ingredients have melted. Bring to a simmer and continue to cook for 2-3 minutes.
Pour hot mixture over dry ingredients and mix together well.
Transfer to prepared tin. Use a spatula to press mixture firmly into the slice tin.
Place in the refrigerator until firm.
Cut into 7 vertical slices. Halve slices to create 14 muesli bars.
Bars will keep in an airtight container in the fridge for 7 days (if they last that long). Enjoy!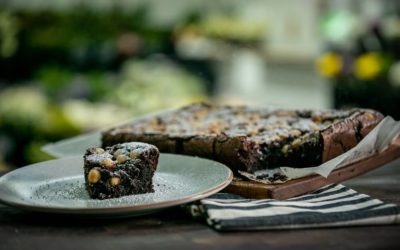 Ingredients: Makes 28 portions 12 eggs 800gm 900gm caster sugar 675gm 68% Madagascar chocolate 675gm-unsalted butter 225gm ground macadamia meal 225gm cocoa powder 300gm macadamia nuts Method: Preheat oven to 150 degrees Grease and line sponge tray with parchment...