Mushroom Tart
Kathy Tsaples
Base:
100g coarse polenta
¼ tsp salt
½ cup boiling Massel stock
50g self raising flour
15ml sunflower oil
¼ tsp baking powder
Butter for greasing
Mushroom and Spinach Filling
50g butter
3 sprigs lemon thyme, plus extra to garnish
Handful of whole button mushrooms
Handful of small Swiss brown mushrooms, sliced
3 pine mushrooms, sliced (or any other mushroom)
Salt pepper
1 onion, grated or finely diced
500g baby spinach leaves
100g kasseri cheese
Preheat the oven to 200°C/180°C fan-forced.
To make the base, put the polenta and salt in a large bowl and add the boiling water. Stir vigorously to prevent lumps forming. When smooth add the flour, oil and baking powder, and mix to combine, ensuring there are no lumps.
Meanwhile, prepare the mushrooms. Heat the butter with the lemon thyme in a frypan large enough to hold the mushrooms without crowding. Once the pan is hot, add all the mushrooms and cook quickly to sear them. Season the mushrooms and set aside to cool.
Clean the frypan, then sauté the onions with the olive oil until soft and translucent. Put the washed baby spinach in a bowl and pour the hot onion mixture over it. Season with salt and pepper and toss well, until the leaves have started to wilt.
Thoroughly butter the flan tin. Take the dough and, with wet hands, mould and spread it over the bottom of the tin and up the sides. The dough is a wet dough, so take your time, have a bowl of water ready to regularly wet your hands, and ensure the dough is evenly distributed over the base and sides of the tin. It should be about 0.5 centimetres thick. Neaten the edges with a knife or your fingers.
Beat the eggs with the milk until combined. Add the salt and the pepper and mix through.
Arrange the spinach and onion mixture in the bottom of one of the tins. Spread the mushrooms evenly over the spinach. Pour half of the custard into the tin.
Bake tart for 30 mins and remove from oven. Immediately shave the kasseri cheese over the top of the spinach and mushroom tart, and sprinkle with the thyme leaves.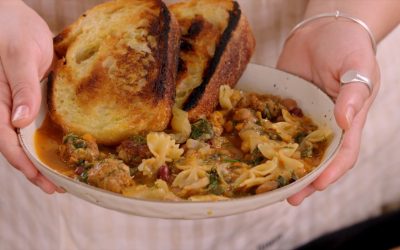 Ingredients: 4 Spicy Italian Sausages Packet of Farfalle Pasta 1 Leek 1 Carrot 1 Onion 2 Garlic 2 cups Shredded Cabbage 1 Chopped Silver Beet 1 400gm Tinned Beans 1 tsp Cumin powder 1 tsp Coriander  powder 1tsp Paprika powder 2 tbsp Tomato Paste Stock of your choice...