Normandy Mussels
Elena Duggan
1kg Live Mussels, Australian
750g Royal Blue or Sebago Potatoes, peeled, sliced in 5 mm discs, rinsed, dried
100g Extra Virgin Olive Oil
1 tbsp Dijon mustard
250ml Apple Cider
100ml Calvados
100 g Unsalted Butter, reserve 50g for potatoes
50g Crème Fraiche
Ground white pepper to taste
Murray River salt, to taste
¼ bunch dill, leaves only
¼ bunch parsley, leaves only, finely diced
For the potatoes, heat 50g EVOO in a large non-stick fry pan over a medium heat.
Pan fry potatoes while flipping every two minutes until evenly cooked and golden. When a fork goes through with minimal resistance, they're ready.
Place 50g of butter in to finish potatoes and set aside to serve.
Heat oil in a large heavy based pot. Soften leeks until starting to colour.
Deglaze with cider and calvados and dislodge all sediment, stir thoroughly.
Allow liquid to reduce by approximately one third, stir through butter, pepper and Dijon until combined.
Pour in mussels and place lid on pot. Once all mussels are open, approximately 8 minutes remove lid, stir through crème fraiche.
Serve with fresh dill and parsley and potatoes.
Notes
Mussels can be replaced with pipis or clams depending on local and seasonal availability Leek can be replace with brown or white onion Cider and calvados can be replaced with a dry white wine
Optional
Dairy free option, leave out butter and crème fraiche, replace with more EVOO if desired.
Gluten free
Grain free
Nut free
Low Fructose / Minimal sugar
Pescatarian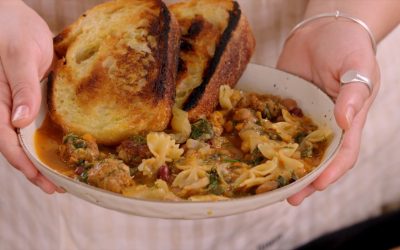 Ingredients: 4 Spicy Italian Sausages Packet of Farfalle Pasta 1 Leek 1 Carrot 1 Onion 2 Garlic 2 cups Shredded Cabbage 1 Chopped Silver Beet 1 400gm Tinned Beans 1 tsp Cumin powder 1 tsp Coriander  powder 1tsp Paprika powder 2 tbsp Tomato Paste Stock of your choice...