Northern Thai Curry Noodles (Khao Soi)
Chef Mod
For Curry
3 chicken fillets (cut into 6-9 pcs)
400ml TCC Premium Coconut Cream
3 tbsp Valcom Yellow Curry Paste
½ tsp turmeric powder
½ tbsp curry powder
1 tsp black cardamom powder
1 tbsp chicken stock powder
½ tbsp brown sugar
½ tbsp Squid Brand Fish Sauce
½ cup water
For Serving
300g fresh egg noodles
6 cups water
For Topping
100g fresh egg noodles
Vegetable/canola oil (for deep frying)
Crushed dried chilli in oil
Red onion (diced)
1 fresh lime/lemon (cut into wedges)
Red chillies (sliced)
Fresh spring onions
Fresh coriander leaves
Curry
Pour the 200ml TCC Premium Coconut Cream in a large heavy-based saucepan over medium-low heat. Add Valcom Yellow Curry Paste, turmeric powder and black cardamom powder. Cook and stir for 2-3 mins until oil separates on the surface. Then, add the chicken and stir until it is coated with coconut and chilli paste.
Add the remaining 200ml TCC Premium Coconut Cream with ½ cup water. Stir the chicken until the curry sauce is mixed through, then reduce heat to low and cook for 10 mins.
Add chicken stock powder, brown sugar and Squid Brand Fish Sauce into the pot, then stir until mixed through. Simmer for 15 mins or until chicken is cooked through.
Crispy Noodles Topping
Pour vegetable oil in a small pot over medium heat. When the oil is hot, add 100g egg noodles to deep fry until light golden and crispy. Remove and set aside to drain oil.
To Serve
Pour about 6 cups of water in a medium pot then cook egg noodles following the packet instructions. Drain and refresh under cold water. Divide noodles into individual serving bowls.
Ladle chicken curry over noodles. Top with toppings and serve with lime/lemon wedges.
Enjoy your creamy northern Thailand style curry noodles.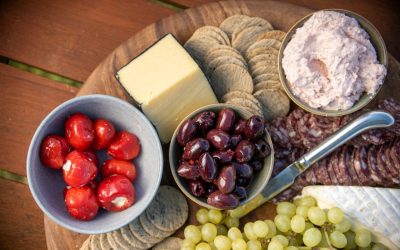 Ingredients: Hard Cheese Soft Cheese Blue Cheese 1 baguette  A bunch of Green Grapes Honeycomb Salami (sliced) Smoked Salmon Dip Artisan Crackers Beetroot dip Poppy Seed Skordalia Dip Dukkah Stuffed Bell Peppers Marinated Olives (pitted) Method: There are no rules or...