Juice of 2 limes
2 ½ tablespoons sugar
2 tbsp Squid Brand fish sauce
2 birdseye red chilis, finely diced (add more or less for your preference of heat)
2 garlic cloves, finely diced
Mix all ingredients together until sugar has dissolved.
Make sure you taste the dipping sauce to see the balance of the flavours. Each ingredient can have a different flavour intensity so you may need to add more or less.
Note: the longer you leave the sauce, the more intense the flavours become.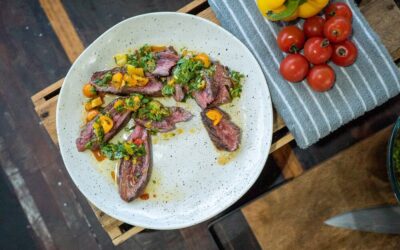 Ingredients: Serves: 4 800g Hanger Steak Sea Salt 1 small yellow pepper, seeds removed, roughly chopped 6 Yellow baby Tomatoes 1 small red chilli, seeds removed ½ tsp dried flaked chillies 2 Garlic cloves, peeled 20g fresh parsley, including any tender stalks 10g each...