Octopus, Mandarins, Oregano and Olives
Elena Duggan
1kg Octopus, cleaned and prepared by fishmonger
300g White wine, dry
300g Water
3 Bay leaves
10 Black peppercorns
1 Lemon, rind only, shaved, juice reserved
1tsp/ 10g Murray River salt
100g Black olives, pitted and drained
3 Mandarins, segmented, reserve rind
1 bunch Thyme, leaves only
1 bunch Oregano, leaves only
50g Honey, optional
50g EVOO, additional to serve
Place octopus in a medium to large saucepan with wine, water, salt, lemon and mandarin rind, bay leaves, one third of the oregano, one third of the thyme. Weigh octopus down with a plate if necessary to submerge octopus.
Bring to the boil and then reduce to a low simmer. Octopus should cook for approximately 40 minutes, or until tender. Remove the saucepan from heat and allow octopus and liquid to cool.
Remove octopus and cut into 10cm pieces. Toss octopus through EVOO.
Preheat barbecue to high heat.
Whilst barbecue is heating up, prepare the dehydrated olives. Ensure olives are drained well and pat dry if necessary. Place paper towel on the bottom of a microwave safe plate or bowl. Microwave on high one minute at a time, checking in between until olives are dehydrated or shriveled by approximately one third – approximately 5 separate minutes. Finely dice on a chopping board until a fine crumb. Return to paper towel in microwave for a further minute if you'd prefer a drier crumb. Set aside.
Grill octopus pieces turning two or three times over 4-5minutes. A slight char is desired on the surface of the octopus.
Toss mandarin, herbs and octopus together and place on a serving platter. Drizzle over honey, squeeze over lemon and scatter over olive crumb. Drizzle over olive oil immediately before serving to ensure octopus is glistening.
Gluten free
Grain free
Low fructose/ sugar free (optional)
Nut free
Pescatarian
Dairy free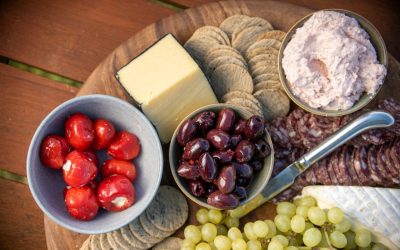 Ingredients: Hard Cheese Soft Cheese Blue Cheese 1 baguette  A bunch of Green Grapes Honeycomb Salami (sliced) Smoked Salmon Dip Artisan Crackers Beetroot dip Poppy Seed Skordalia Dip Dukkah Stuffed Bell Peppers Marinated Olives (pitted) Method: There are no rules or...